Monday, August 29, 2005
I honestly don't know how this happened to me.

I tried to be a nice girl and build a nice web site for my high school class. It has a message board and a photo gallery and polls and an In Memoriam page.

But now it has fucking pictures of some girl's cat on it. I never intended to have pictures of cats stored on my server. My plan to allow my former classmates to post their own photos to the galleries has backfired on me.

AND WORST OF ALL, this girl posted the cat photos under the section reserved for people's CHILDREN!

PEOPLE - your pets are not your children!!! They did not come out of a human vagina. They are not the result of a passionate night in the back of Chevy or a cheap roadside hotel.

Sure you could also say that most human babies don't come from hoity-toity sophisticated intercourse between two people who really love each other. But these animals... they come from a horny 2-second fuck between a mutt and another mutt. Their brains aren't even big enough to enjoy the sex. They just attack whatever animal happens to be around at the moment and out pops a furry, bloody mess some amount of time later.

And you want to claim these scrawny rats as your "children?" What an insult to your real children, if you ever have them someday. Equating pets and humans is the #1 thing that PFL must fight against. It is a sign that people are getting stupider and stupider with every passing generation.

You think prairie frontier people called their dogs their children? No, they called them bitches and and put them to work and hit them if they misbehaved. Why couldn't I have been born in those times? Fuck political correctness.

Anyway, I don't know what I'm going to do about the server space that is currently housing two photos of Sebastian the cat.

What have I gotten myself into?

(0) comments
Sunday, August 28, 2005
OK, first we had Stuffoncats.com or whatever the hell it was called. Now we have
Cats in Sinks.
I guess every 2-bit web designer now thinks it's OK to buy a succinct, descriptive domain name and slap together some type of "pets in certain situations"-themed site. Why do these sites get so popular, so quickly? Is there really such an appetite for such idiotic diversions? Don't real life and human-focused activities hold any allure for all you "web surfers" out there?
Well, count me out. Although it does give me something to write about here and, in this particular instance, the fact that the cats are in sinks gives me hope that perhaps the cats are unhappy in the sinks because they don't like water. Perhaps this is some sort of cat abuse disguised as fodder for a Hallmark card? I don't know. But I can only hope that someone turns the faucet on and drowns those kitties ASAP.
Believe me, if I could stand to have a cat within 2 feet of me, I would do it myself.
(0) comments
Saturday, August 27, 2005
I think I have found my new home on this planet -
Uncyclopedia.org

I was lured there by a simple set of sentences:
"
Kitten
huffing is a great alternative to normal street
drugs
and
vitamins
. It is well known that ingesting kittens has its
side effects
, so please, don't huff more than two or three a day.
Kitten-related human fatalities
are no
joke
."
When you go the site's entry on
Kitten Huffing
you can find step-by-step instructions for how to use kittens to get a natural high. They even have a list of famed kitten-huffers from throughout history and, of course, this list of fine individuals is going to become my new list of people to admire.
Any site that has such irreverent shit on it, without any apparent disclaimers or even a hint of apology, is so fucking PFL that it's eery.
(0) comments
Friday, August 26, 2005
Rad.
I just googled the term "kill all dogs" just to see if I could find any intelligent, like-minded folks out there so that we could recruit them to join PFL and only one image came up: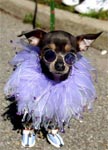 That is fricking dope. No words necessary - just a photo of an idiotic dog in a tutu conveys the phrase "kill all dogs."
I love the Internets.
(0) comments
Thursday, August 25, 2005
Proof we should kill all dogs. If everyone's so OK with killing a dog after an attack like this, why don't we just spare the human lives and kill the dogs
now
, rather than wait until they attack? That is the question that PFL asks. We demand an answer.
Pit Bull Attacks 2-Year-Old
Family Agrees To Euthanize Animal
POSTED: 5:03 pm PDT August 25, 2005


SAN DIEGO --
A 2-year-old girl was attacked by her family's pit bull at their Paradise Hills home Thursday, suffering facial injuries that left her hospitalized, authorities reported.The dog attack occurred in the 2300 block Morningside Street about 9 a.m., according to San Diego police.The toddler was taken to Children's Hospital, SDPD public information Officer Gary Hassen said. Her name and condition were not released.Animal control personnel took custody of the canine and reportedly received the family's permission to euthanize the animal following a rabies exam and other tests.
(0) comments
Saturday, August 20, 2005
For all of you haters who don't understand why PFL must unify and stand up in protest of the state of human-animal relations in this country, I offer the following as proof of not only the idiocy of celebrities, but also the lunacy of treating dogs as if they are equal to humans.
P.S. I don't know if I can watch Da Ali G show any more. Previously one of my all-time favorite shows, I now question the sanity of the mind behind Borat. Excuse me while I hurl my Ali G DVDs at the neck of the next dog that passes by my house.
Pammy's pooch marriage
August 20, 2005
Pamela Anderson's two pet dogs have got "married."
The former 'Baywatch' babe was 'guest of honour' at the bizarre nuptials, in which her Golden Retriever, Star, tied the knot with Chihuahua Luca.
Pammy, 38, carried "groom" Luca to the altar, while "bride" Star was led up on a lead by a pal of the sexy actress.
Guests at the wedding, included 'Ali G' star Sacha Baron Cohen - who was dressed in swimming trunks and leather jacket - but no four-legged friends of the 'happy couple' were present.
Afterwards, Pammy - who has previously described pet Star as her "partner in crime" - joined friends for some celebratory drinks.
SOURCE:
http://entertainment.sympatico.msn.ca/celebs/news/article01.armx
(0) comments
Wednesday, August 17, 2005
Have you seen
Tyson the Skateboarding Bulldog
yet? Here at PFL, we hardly know what to say about situations like this. First of all, we get pissed off just thinking about how many people will go to that site and say to themselves, "Awwwww!!! That is so cute!1!!11!" On the other hand, we imagine the possibility that the dog could hurt itself on the skateboard. So that makes it preferable to dogs that just sit on cushions all day long or something.
And then on yet another hand, we remember that dogs doing human-type activities are really pretty lame, in actuality. For example, when I receive a holiday card from some friends and they include a photo of their dog in a professional photo studio wearing brown felt fake reindeer ears on a headband... well, it ruins my entire month of December.
What's most unbelievable is that I have friends who would actually dare to send me photos of their pets! I guess they don't know about PFL and this web site!
(0) comments
Tuesday, August 09, 2005
See, even cat owners like to humiliate and mock and abuse cats.
StuffOnMyCat.com is proof!
I have gone right ahead and linked you up to the best section of the site which is where cat owners put naughty things on their cats.
It almost makes me want to own a cat so that I could abuse it and put shit on it. Well, not really... but it is an eye-opening situation that has brought to my attention today.
(0) comments